Biomechanics and Mobility Research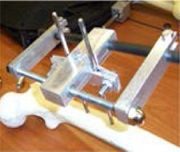 The Biomechanics and Mobility Research focus area provides a means by which the very large but geographically spread orthopedics & mobility community in Charlotte can regularly communicate to: (1) attain broad financial support; (2) develop mutually congruous research with a laboratory and clinical component; and (3) facilitate the development of translational research & entrepreneurship.
The areas span clinical medical studies to basic research in the following areas:
Orthopedic Implants
Immunological Issues
Design and Manufacturing of Orthopedic Materials
Quality assurance of Orthopedic Materials
Examples of research collaborations include the testing of new disc implants for treating degenerative disk disease; the coating of implant surfaces with nanobiomaterials that contain antibiotics to combat infection; and the design of new hip implants based on biodynamic and neuromechanical stability.
Please click here for a list of our BMR researchers.